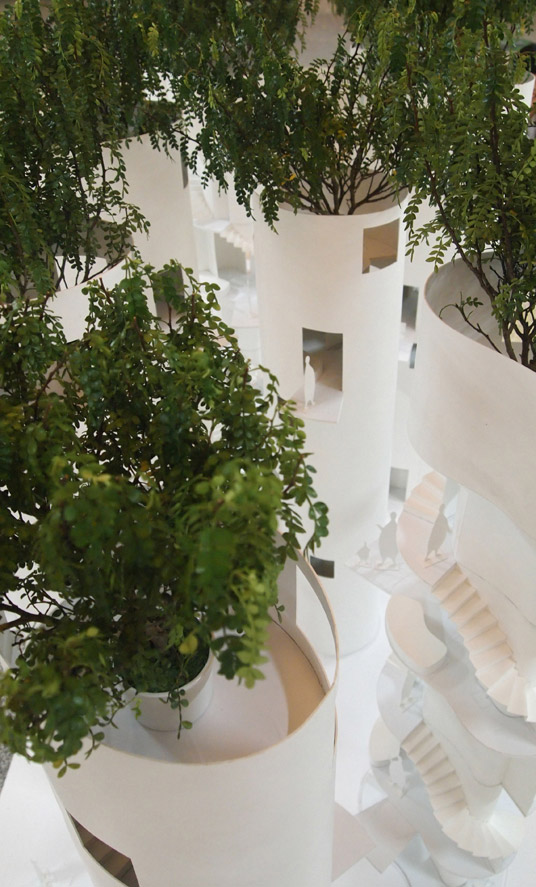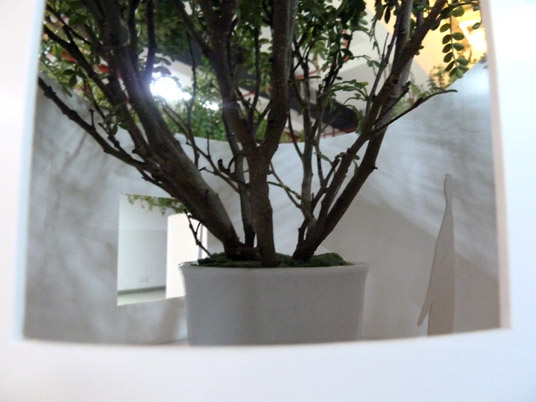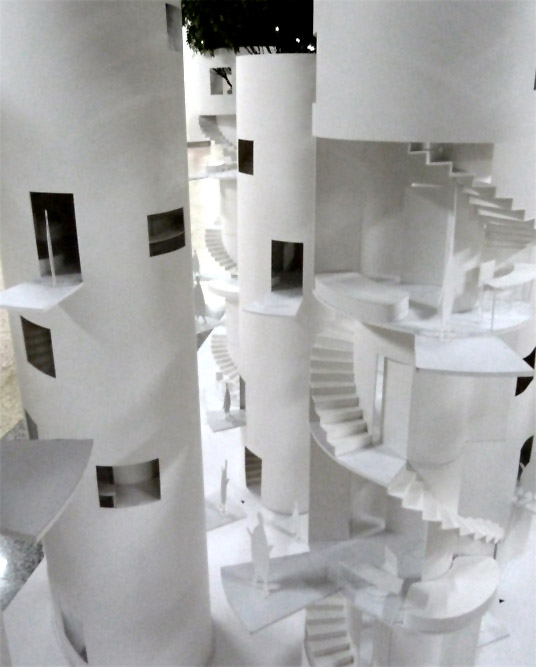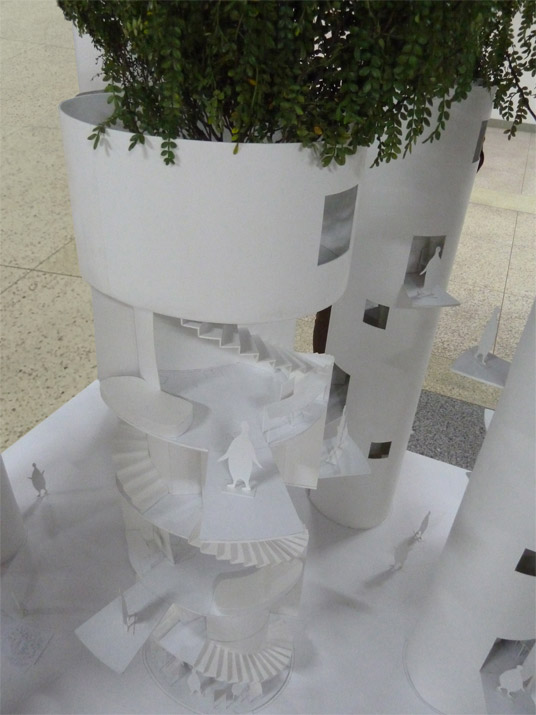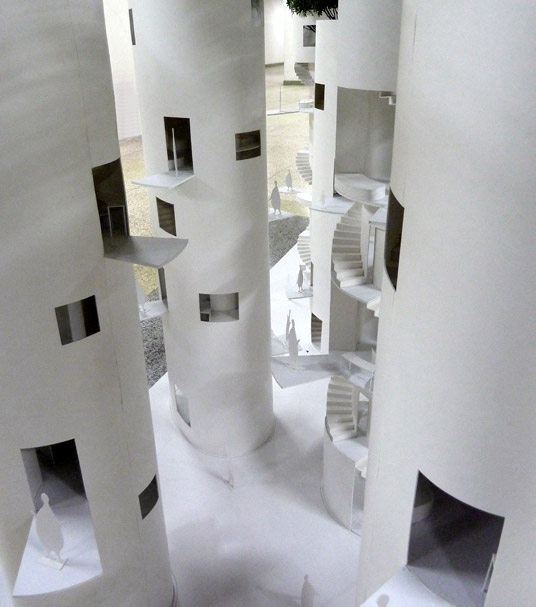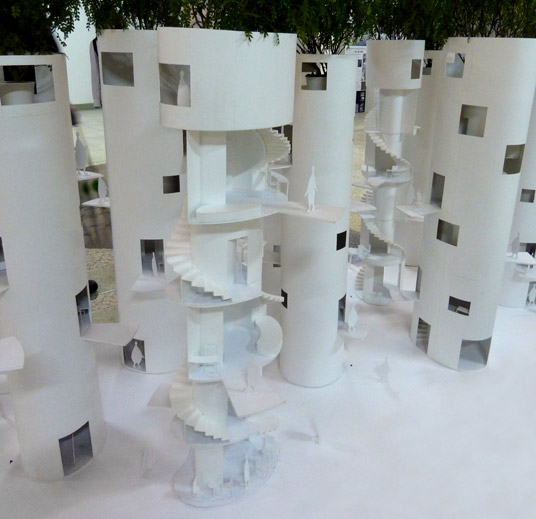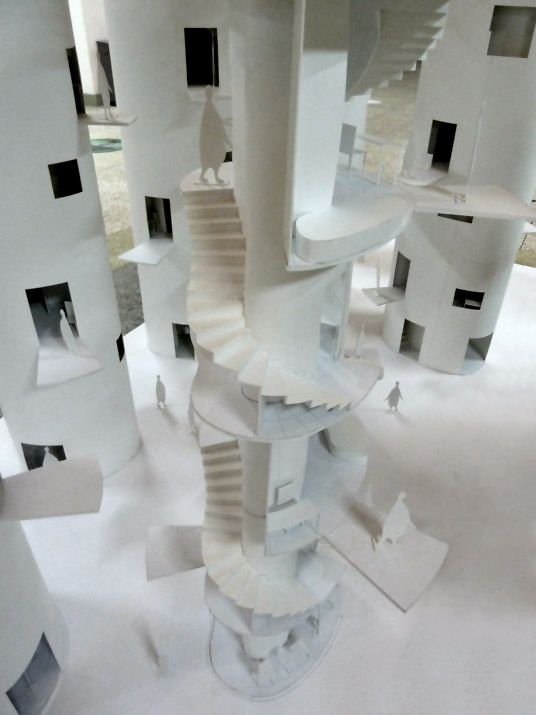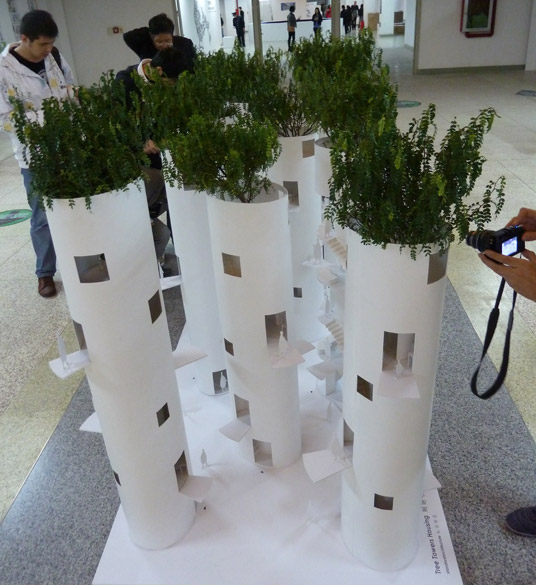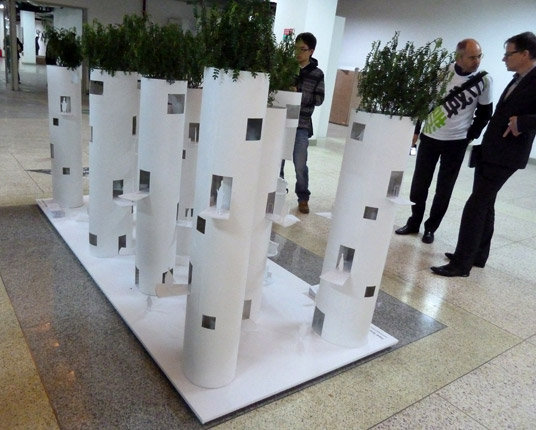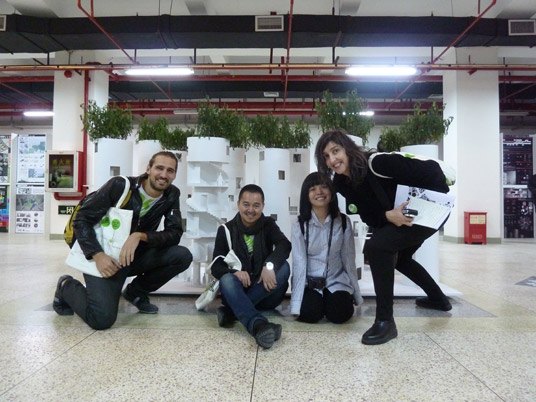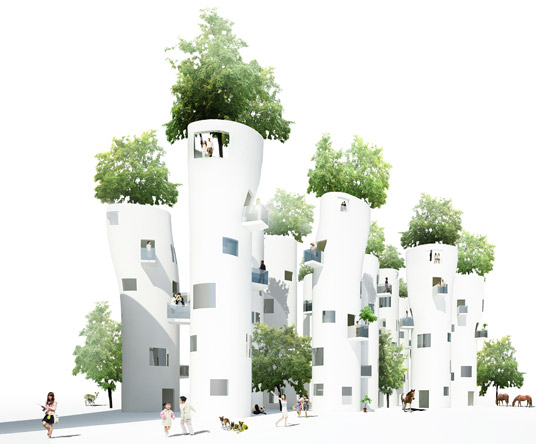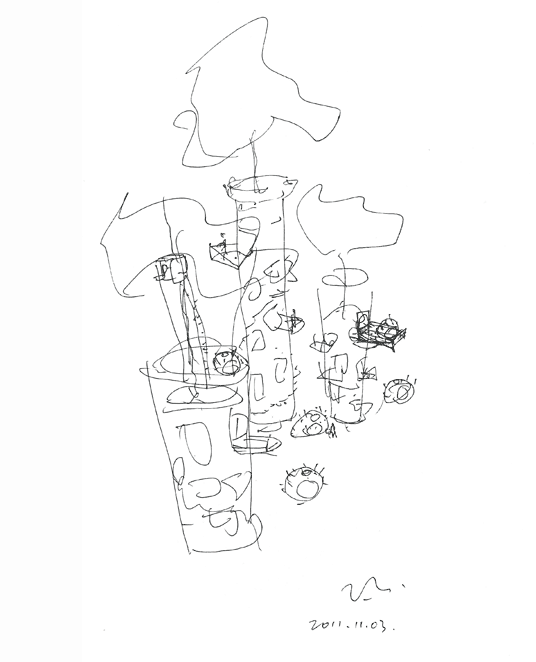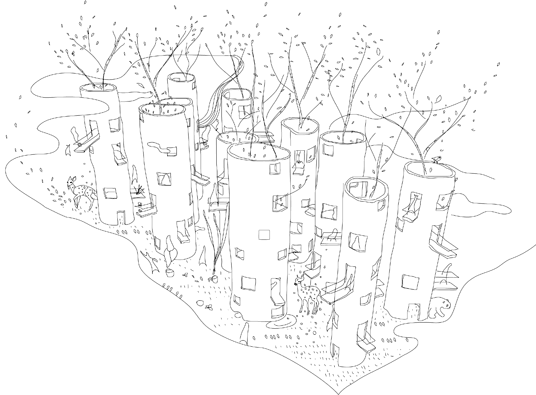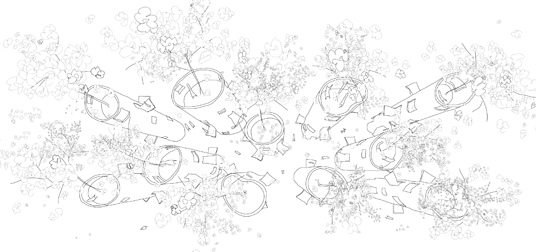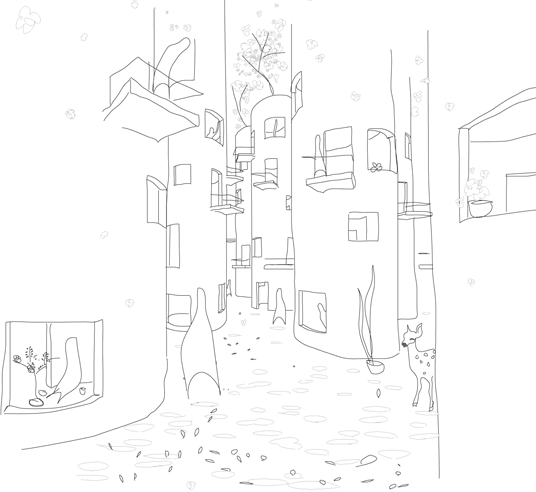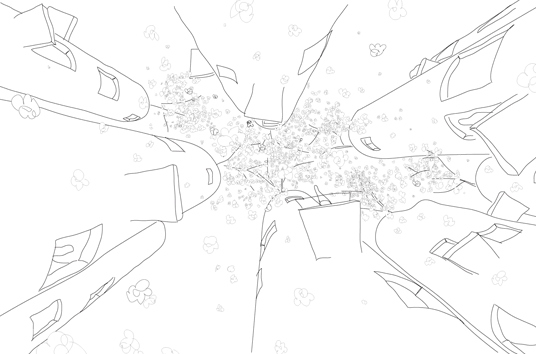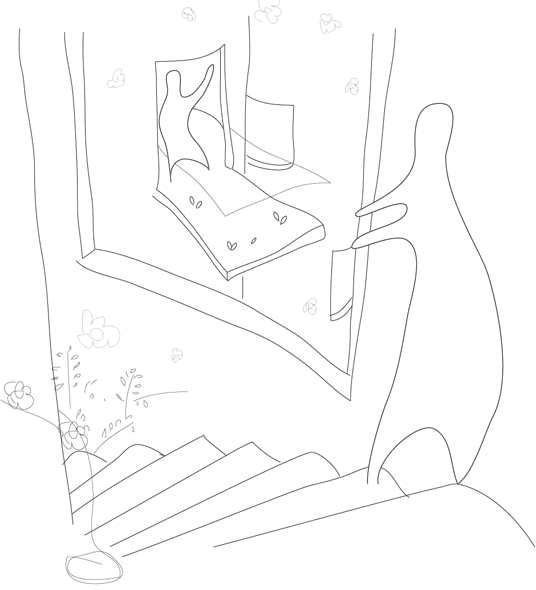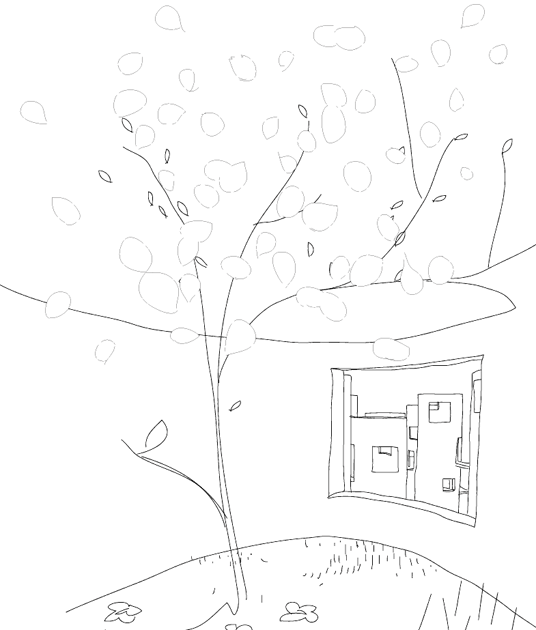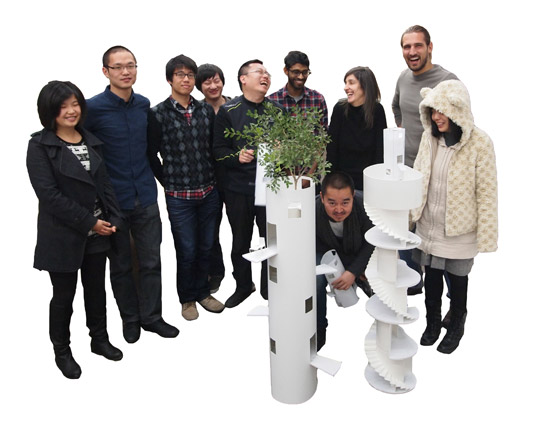 The goal of our design is to create a desirable, attractive community for young people, designing dream apartments that occupy the smallest urban plot possible between 10 m² and 14 m² per floor. 
Each Tree Tower is structured on six floors and works independently. The roof level accommodates a public terrace used by the dwellers with a plantation of a big tree, from the second to the fifth floor there are residential units, organized one per floor, and the ground floor contains a small shop or café.
The two sizes of 10 m² and 14 m² of the residential units are designed to accommodate essential facilities in a minimum living space. Each unit is provided with an exterior balcony that enlarges the actual size of the interior room and enriches the quality of the living space. 
With this project we intend to explore a different way of social living. Our design process reinterprets the scale of a residential tower in order to transform it into a house scale building. This scaling process brings the perception of the building volumes and public spaces to a much more human size, balancing the relation between voids and solids.
The tower are designed to be organized either together as a dense urban environment, or to stand alone in defined, enclosed plots, as dots in the existing urban fabric. This attitude makes the whole design flexible and adaptable to almost any kind of environmental situation.
There are three kind of outdoor spaces: the ground floor public area, the private balconies, and the green roof terrace. The proximity among the towers creates a feeling of a three-dimensional experience of the space, encouraging the social interaction between dwellers located in different floors.
The irregular round shapes of the volumes emphases the perception of fluidity and permeability of the space. 
本设计意图营造一个对于年轻人群充满吸引力的住宅社区,它们由每层10到14平米超小型城市单元组成。
每个树塔均为六层独栋。顶层为种有大树的公共阳台,二至五层为独层独户套间,底层可作咖啡厅或商店使用。
10平米与14平米两种单元套间将基本设施容纳于最小化的空间里。每个套间配有户外阳台,这些阳台既扩大了实际使用空间,也提高了生活品质。
在这个项目上,我们试图探索一种全新的社会住宅模式。我们将通常所见的大尺度住宅塔楼模型转译成了小尺度住宅。这一变动使得建筑体积与公共空间更加接近人的尺度,也平衡了空间的虚实关系。
树塔的组织有如高密度的城市环境,也可独立定义,彼此分离,如同城市织网中的点阵。这样的理解使得本设计兼具柔韧与几乎可以面对任何环境的强大适应力。
树塔的设计中包含三种户外空间:一层公共区域,各层独立阳台,以及屋顶花园。塔与塔的邻接关系所制造的三维空间体验促进了不同楼层住户间的社会性互动。 而不规则圆形体量强调了流动与彼此渗透的空间感受。