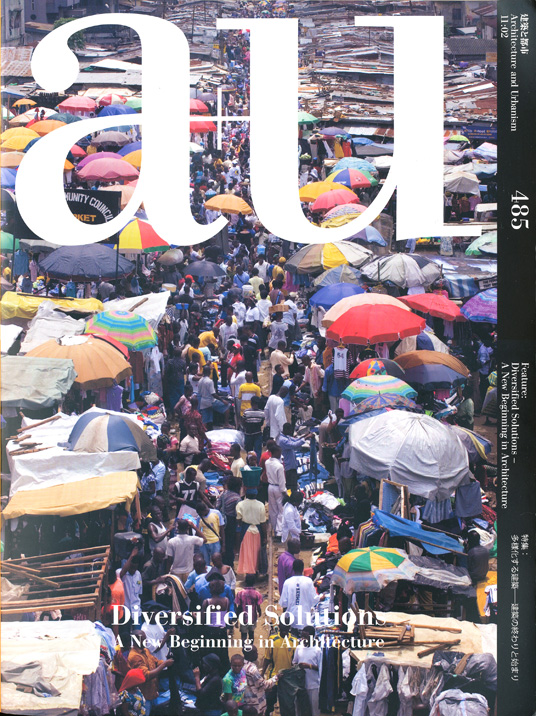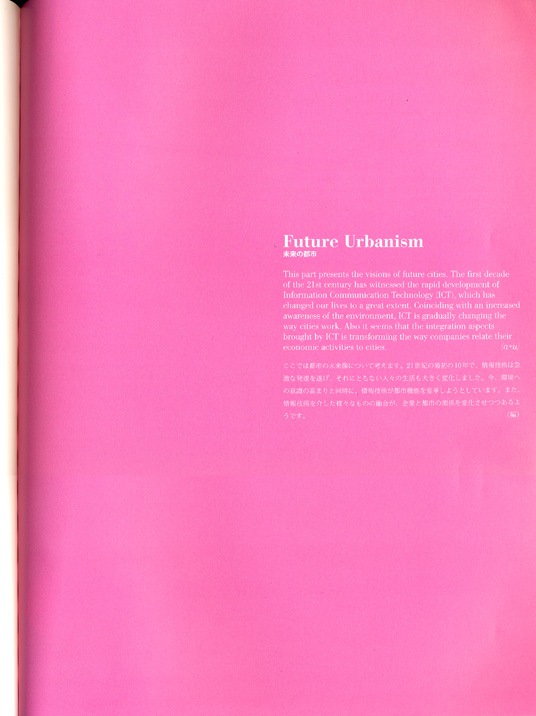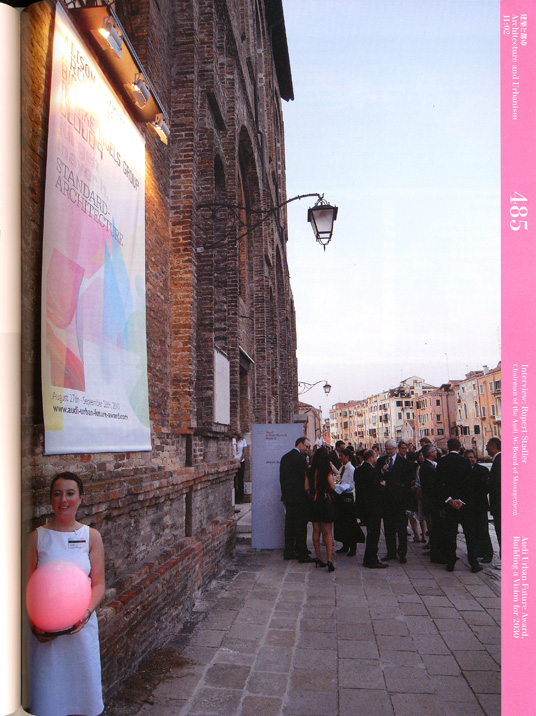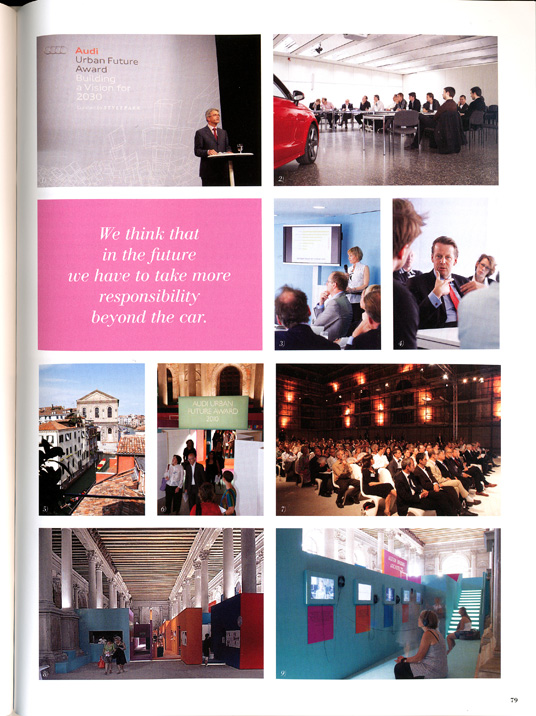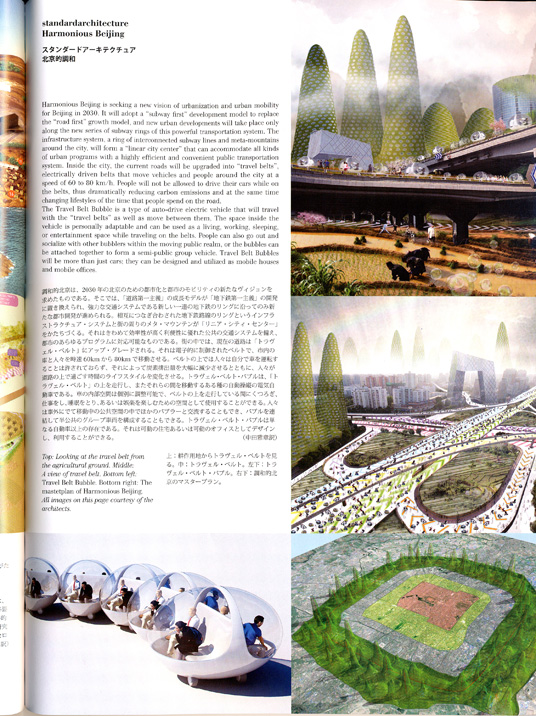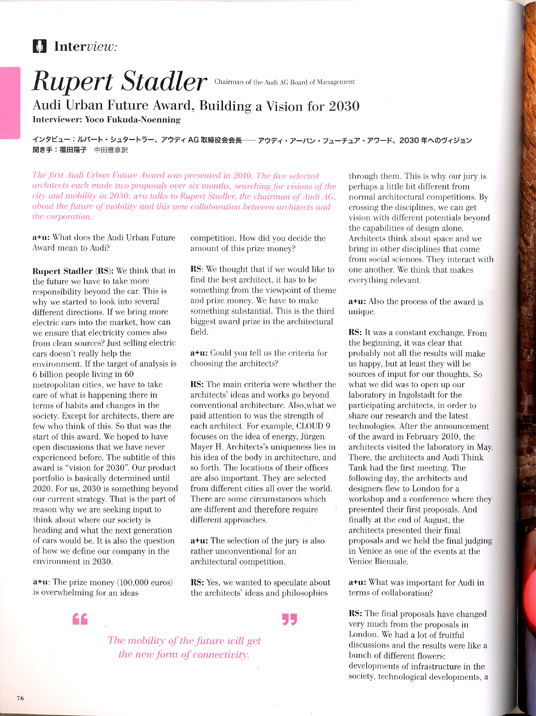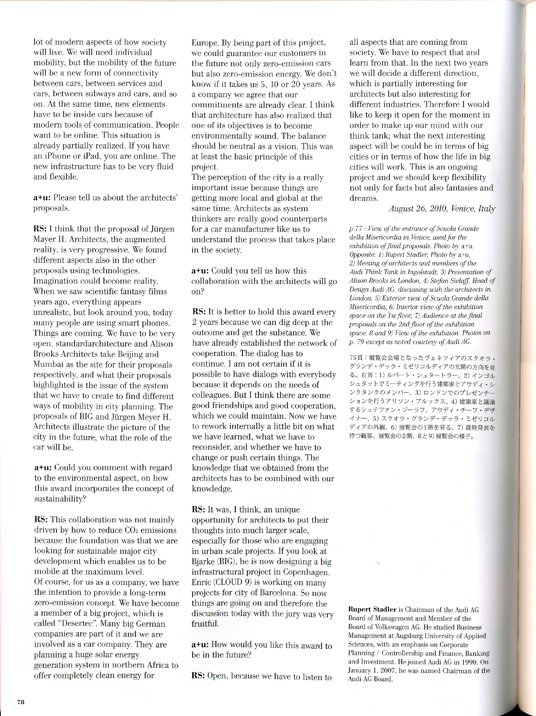 standardarchitecture
Harmonious Beijing is seeking a new vision of urbanization and urban mobility for Beijing in 2030. It will adopt a "subway first" development model to replace the "road first" growth model, and new urban developments will take place only along the new series of subway rings of this powerful transportation system. The infrastructure system, a ring of interconnected subway lines and meta-mountains around the city, will form a "linear city center" that can accommodate all kinds of urban programs with a highly efficient and convenient public transportation system. Inside the city, the current roads will be upgraded into "travel belts", electrically driven belts that move vehicles and people around the city at a speed of 60 to 80 km/h. People will not be allowed to drive their cars while on the belts, thus dramatically reducing carbon emissions and at the same time changing lifestyles of the time that people spend on the road.
The Travel Belt Bubble is a type of auto-drive electric vehicle that will travel with the "travel belts" as well as move between them. The space inside the vehicle is personally adaptable and can be used as a living, working, sleeping, or entertainment space while traveling on the belts. People can also go out and socialize with other bubblers within the moving public realm, or the bubbles can be attached together to form a semi-public group vehicle. Travel Belt Bubbles will be more than just cars; they can be designed and utilized as mobile houses and mobile offices.
Rupert Stadler
Chairman of the Audi AC Board of Management
Audi Urban Future Award, Building a Vision for 2030
Interviewer:Yoco Fukuda-Noenning
The first Audi Urban Future Award was presented in 2010. The five selected architects each made two proposals over six months,searching for visions of the city and mobility in 2030. a+u talks to Rupert, the chairman of Audi AG, about the future of mobility and this new collaboration between architects and the corporation.
a+u:
What does the Audi Urban Future Award mean to Audi?
Rupert Stadler (RS):
We think that in the future we have to take more responsibility beyond the car. This is why we started to look into several different directions. If we bring more electric cars into the market, how can we ensure that electricity comes also from clean sources? Just selling electric cars doesn't really help the environment. If the target of analysis is 6 billion people living in 60 metropolitan cities, we have to take care of what is happening there in terms of habits and changes in the society. Except for architects, there are few who think of this. So that was the start of this award. We hoped to have open discussions that we have never experienced before. The subtitle of this award is "vision for 2030". Our product portfolio is basically determined until 2020. For us, 2030 is something beyond our current strategy. That is the part of reason why we are seeking input to think about where our society is heading and what the next generation of cars would be. It is also the question of how we define our company in the environment in 2030.
a+u:
The prize money (100,000 euros) is overwhelming for an ideas competition. How did you decide the amount of this prize money?
RS:
We thought that if we would like to find the best architect, it has to be something from the viewpoint of theme and prize money. We have to make something substantial. This is the third biggest award prize in the architectural field.
a+u:
Could you tell us the criteria for choosing the architects?
RS:
The main criteria were whether the architects' ideas and works go beyond conventional architecture. Also, what we paid attention to was the strength of each architect. For example, CLOUD 9 focuses on the idea of energy, Jürgen Mayer H. Architects's uniqueness lies in his idea of the body in architecture, and so forth. The locations of their offices are also important. They are selected from different cities all over the world. There are some circumstances which are different and therefore require different approaches.
a+u:
The selection of the jury is also rather unconventional for an architectural competition.
RS:
Yes, we wanted to speculate about the architects' ideas and philosophies through them. This is why our jury is perhaps a little bit different from normal architectural competitions. By crossing the disciplines, we can get vision with different potentials beyond the capabilities of design alone. Architects think about space and we bring in other disciplines that come from social sciences. They interact with one another. We think that makes everything relevant.  
a+u:
Also the process of the award is unique.
RS:
It was a constant exchange. From the beginning, it was clear that probably not all the results will make us happy, but at least they will be sources of input for our thoughts. So what we did was to open up our laboratory in Ingolstadt for the participating architects, in order to share our research and the latest technologies. After the announcement of the award in February 2010, the architects visited the laboratory in May. There, the architects and Audi Think Tank had the first meeting. The following day, the architects and designers flew to London for a workshop and a conference where they presented their first proposals. And finally at the end of August, the architects presented their final proposals and we held the final judging in Venice as one of the events at the Venice Biennale.  
a+u:
What was important for Audi in terms of collaboration?
RS:
The final proposals have changed very much from the proposals in London. We had a lot of fruitful discussions and the results were like a bunch of different flowers: developments of infrastructure in the society, technological developments, a lot of modern aspects of how society will live. We will need individual mobility, but the mobility of the future will be a new form of connectivity between cars, between services and cars, between subways and cars, and so on. At the same time, new elements have to be inside cars because of modern tools of communication. People want to be online. This situation is already partially realized. If you have an iPhone or iPad,  you are online. The new infrastructure has to be very fluid and flexible.
a+u:
Please tell us about the architects' proposals.
RS:
I think that the proposal of Jürgen Mayer H. Architects, the augmented reality, is very progressive. We found different aspects also in the other proposals using technologies. Imagination could become reality. When we saw scientific fantasy films years ago, everything appears unrealistic, but look around you, today many people are using smart phones. Things are coming. We have to be very open. standardarchitecture and Alison Brooks Architects take Beijing and Mumbai as the site for their proposals respectively, and what their proposals highlighted is the issue of the system that we have to create to find different ways of mobility in city planning. The proposals of BIG and Jürgen Meyer H. Architects illustrate the picture of the city in the future, what the role of the car will be. 
a+u:
Could you comment with regard to the environmental aspect, on how this award incorporates the concept of sustainability?  
RS:
This collaboration was not mainly driven by how to reduce C02 emissions because the foundation was that we are looking for sustainable major city development which enables us to be mobile at the maximum level. Of course, for us as a company, we have the intention to provide a long-term zero-emission concept. We have become a member of a big project, which is called "Desertec". Many big German companies are part of it and we are involved as a car company. They are planning a huge solar energy generation system in northern Africa to offer completely clean energy for Europe. By being part of this project, we could guarantee our customers in the future not only zero-emission cars but also zero-emission energy. We don't know if it takes us 5, 10 or 20 years. As a company we agree that our commitments are already clear. I think that architecture has also realized that one of its objectives is to become environmentally sound. The balance should be neutral as a vision. This was at least the basic principle of this project.
The perception of the city is a really important issue because things are getting more local and global at the same time. Architects as system thinkers are really good counterparts for a car manufacturer like us to understand the process that takes place in the society.
a+u:
Could you tell us how this collaboration with the architects will go on?
RS:
It is better to hold this award every 2 years because we can dig deep at the outcome and get the substance. We have already established the network of cooperation. The dialog has to continue. I am not certain if it is possible to have dialogs with everybody because it depends on the needs of colleagues. But I think there are some good friendships and good cooperation, which we could maintain. Now we have to rework internally a little bit on what we have learned, what we have to reconsider, and whether we have to change or push certain things. The knowledge that we obtained from the architects has to be combined with our knowledge.
RS:
It was, I think, an unique opportunity for architects to put their thoughts into much larger scale, especially for those who are engaging in urban scale projects. If you look at Bjarke (BIG), he is now designing a big infrastructural project in Copenhagen. Enric (CLOUD 9) is working on many projects for city of Barcelona. So now things are going on and therefore the discussion today with the jury was very fruitful.
a+u:
How would you like this award to be in the future?
RS:
Open, because we have to listen to all aspects that arc coming from society. We have to respect that and learn from that. In the next two years we will decide a different direction,which iS partially interesting for architects but also interesting for different industries Therefore I would like to keep it open for the moment in order to make up our mind with our think tank;what the next interesting aspect will be could be in terms of big cities or in terms of how the life in big cities will work. This is an ongoing project and we should keep flexibility not only for facts but also fantasies and dreams.
August 26,2010,Venice Italy
p.77:View of the entrance of Scuola Grande della Misericordia in Venice,used for the exhibition of final proposals Photo by a+u. Opposite: l)Rupert Stadler, Photo by a+u,2) Meeting of architects and members of the Audi Think Tank in Ingolstadt,3)Presentation  of Alison Brooks in London,4)Stefan Sielaff,Head of Design Audi AG,discussing with the architects in London,5)Exterior view of Scuola Grande della Misericordia,6)Interior view of the exhibition space on the 1st floor,7)Audience at the final proposals on the 2nd floor of the exhibition space,8 and 9) View of the exhibition. Photos on p.79 except as noted courtesy of Audi AG.
Rupert Stadler
is Chairman of the Audi AC Board of Management and Member of the Board of Volkswagen AG. He studied Business Management at Augsburg University of Applied Sciences, with an emphasis on Corporate Planning / Controllership and Finance, Banking and Investment. He joined Audi AG in 1990. On January l, 2007, he was named Chairman of the Audi AG Board. 
北京的调和
調和的北京は、2030年の北京のための都市化と都市のモビリティの新たなヴィジョンを求めたものである。そてでは、「道路第一主義」の成長モデルが「地下鉄第一主義」の開発に置き換えられ、強力な交通システムである新しい一連ののリングに沿ってのみ新たな都市開発が進められる。相互につなぎ合わされた地下鉄路線のリングというインフラストラクチュア•システムと街の周りのメタ•マウンテンが「リニア•シティ•センター」をかたちづくる。それはきわめて効率性が高く利便性に優れた公共の交通システムを備え、都市のあらゆるプログラムに対応可能たものである。街の中では、現在の道路は「トラヴエル·ベルト」にアップ·グレードされる。それは電子的に制御されたベルトで、市内の車と人々を時速60kmから80kmで移動させる。ベルトの上では人々は自分で車を運転することは許されておらす、それによつて炭素排出量を大幅に減少させるとともに、人々が道路の上で過です時間のライフスタイルを変化させる。トラヴエル·ベルト·バブルは、「トラヴエル·ベルト」の上を走行し、またそれらの間を移動するある種の自動操縦の電気自動車である。車の内部空間は個別に調整可能で、ベルトの上を走行している間にくつろぎ、仕事をし、睡眠をとり、あるいは娯楽を楽しむための空間として使用することができる。人々は車外にでて移動中の公共空間の中でほかのバブラーと交流するこ車ともでき、バブルを連結して半公共のグループ車両を構成することもできる。トラヴエル·ベルト·バブルは単なる自動車以上の存在できる。それは可動の住宅あるいは可動のオフイスとしてデザインし、利用することができる。