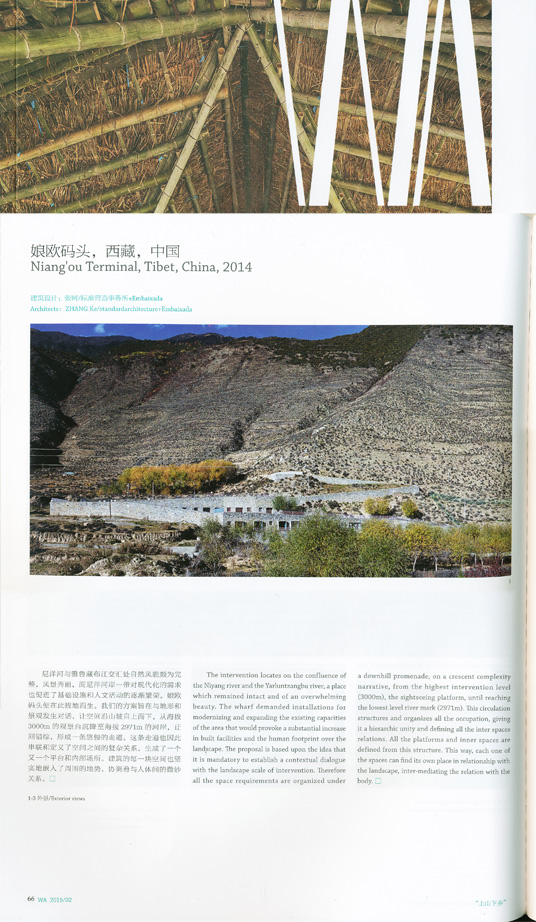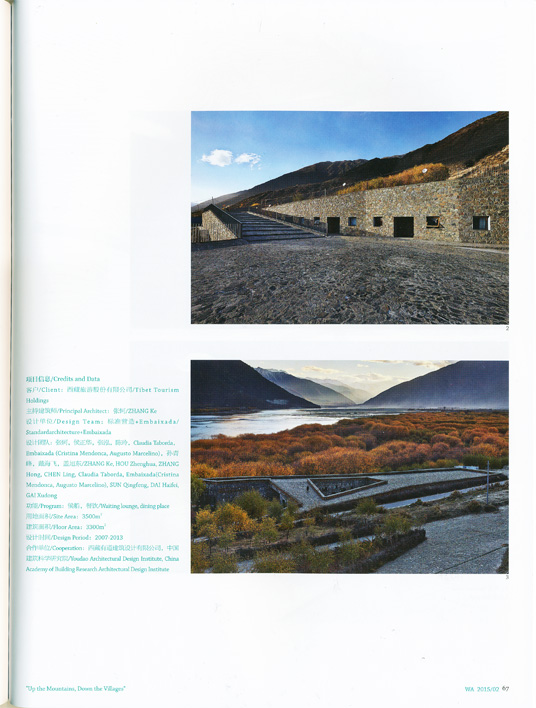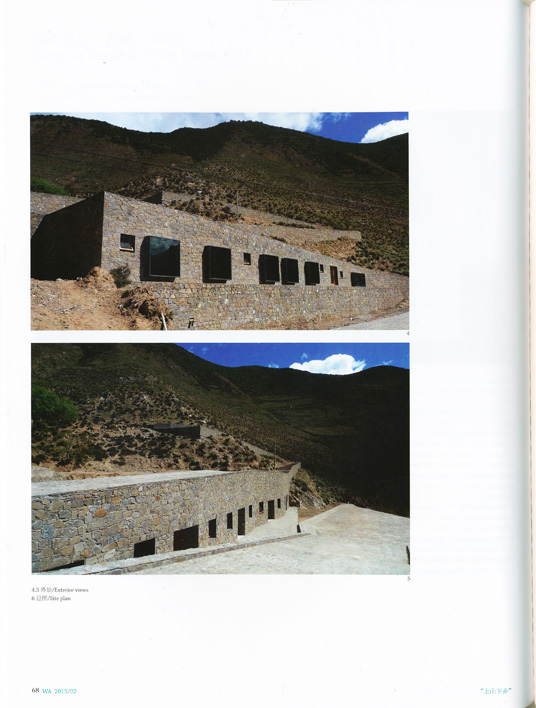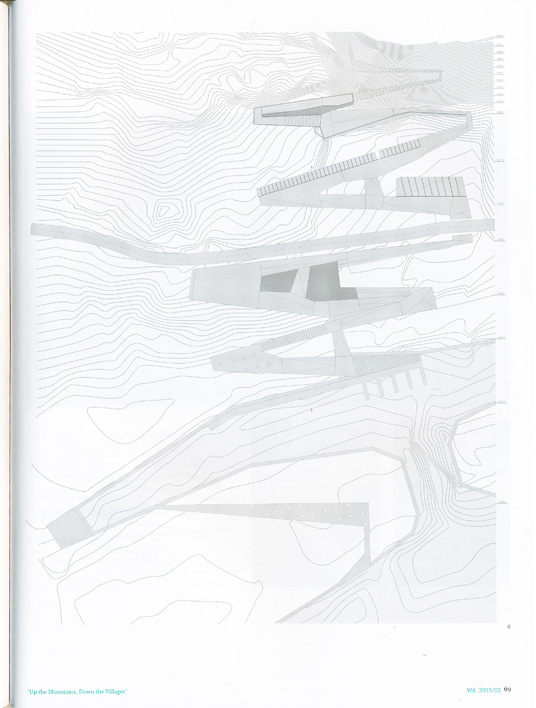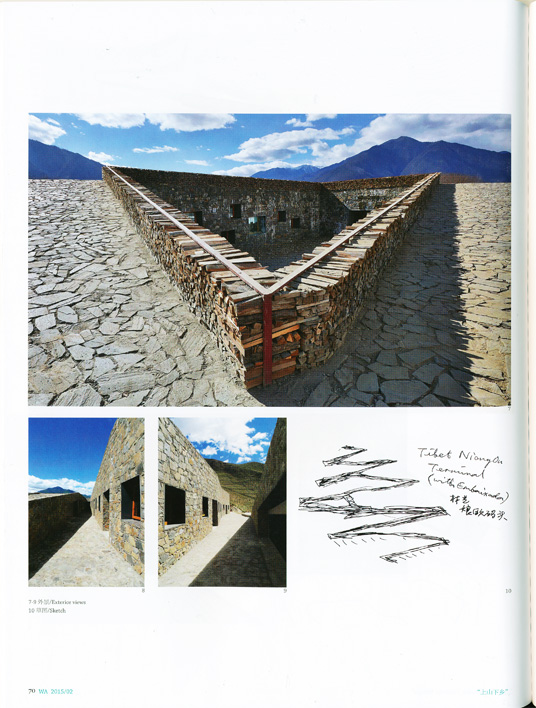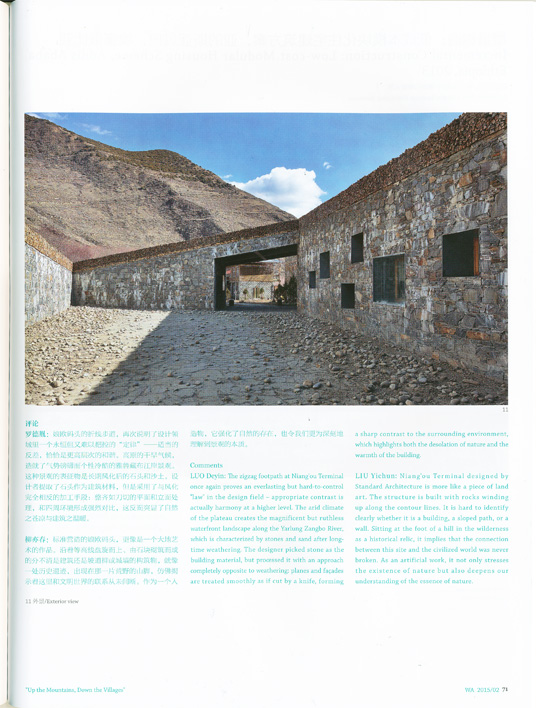 Niang'ou Terminal, Tibet, China, 2014
Architects: ZHANG Ke/standardarchitecture+Embaixada
The intervention locates on the confluence of the Niyang river and the Yarluntzangbu river, a place which remained intact and of an overwhelming beauty. The wharf demanded installations for modernizing and expanding the existing capacities of the area that would provoke a substantial increase in built facilities and the human footprint over the landscape. The proposal is based upon the idea that it is mandatory to establish a contextual dialogue with the landscape scale of intervention. Therefore all the space requirements are organized under a downhill Promenade, on a crescent complexity narrative, from the highest intervention level (3000m), the sightseeing platform, until reaching the lowest level river mark (2971m). This circulation structures and organizes all the occupation, giving it a hierarchic unity and defining all the inter spaces relations. All the platforms and inner spaces are defined from this structure. This way, each one or the spaces can find its own place in relationship with the landscape, inter-mediating the relation with the body.
Credits and Data Client: Tibet Tourism Holdings
Principal Architect: ZHANG Ke
Design units: Standardarchitecture+Embaixada
Design Team: ZHANG Ke, HOU Zhenghua, ZHANG Hong, CHEN Ling, Claudia Taborda, Embaixada(Cristina Mendonca, Augusto Marcelino), SUN Qingfeng, DAI Haifei, GAI Xudong
Program: Waiting lounge, dining place
Site Area: 3500㎡
Floor Area: 3300㎡
Design Period: 2007-2013
Cooperation: Youdao Architectural Design Institute, China Academy of Building Research Architectural Design Institute  
Comments
LUO Deyin: The zigzag footpath at Niang'ou Terminal once again proves an everlasting but hard-to-control "law" in the design field-appropriate contrast is actually harmony at a higher level. The arid climate of the plateau creates the magnificent but ruthless waterfront landscape along the Yarlung Zangbo River, which is characterized by stones and sand after long-time weathering. The designer picked stone as the building material, but processed it with an approach completely opposite to weathering: planes and fac111ades are treated smoothly as if cut by a knife, forming a sharp contrast to the surrounding environment, which highlights both the desolation of nature and the warmth of the building.  
LIU Yichun: Niang'ou Terminal designed by Standard Architecture is more like a piece of land art. The structure is built with rocks winding up along the contour lines. It is hard to identify clearly whether it is a building, a sloped path, or a wall. Sitting at the foot of a hill in the wilderness as a historical relic, it implies that the connection between this site and the civilized world was never broken. As an artificial work, it not only stresses the existence of nature but also deepens our understanding of the essence of nature.
娘欧码头,西藏,中国
建筑设计:张轲/标准营造事务所+Embaixada
尼洋河与雅鲁藏布江交汇处自然风貌颇为完整,风景秀丽,而尼洋河岸一带对现代化的需求也促进了基础设施和人文活动的逐渐繁荣。娘欧码头便在此拔地而生。我们的方案旨在与地形和景观发生对话,让空间沿山坡自上而下,从海拔3000m的观景台沉降至海拔2971m的河岸,迂回错综,形成一条悠慢的走道。这条走道也因此串联和定义了空间之间的复杂关系,生成了一个又一个平台和内部场所。建筑的每—块空间也坚实地嵌入了周围的地势,协调着与人体间的微妙关系。
项目信息
客户:西藏旅游股份有限公司
主持建筑师:张轲
设计单位:标准营造+Embaixada
设计团队:张轲,侯正华,张弘,陈玲,Claudia Taborda, Embaixada (Cristina Mendonca, Augusto Marcelino),孙青峰,戴海飞,盖旭东
功能:侯船,餐饮
用地面积:3500㎡
建筑面积:3300㎡
设计时间:2007-2013
合作单位:西藏有道建筑设计有限公司,中国建筑科学研究院
评论
罗德胤:娘欧码头的折线步道,再次说明了设计领域里一个永恒又难以把控"定律"——适当的反差,恰恰是更高层次的和谐。高原的干旱气候,造就了气势磅礴而个性冷酷的雅鲁藏布江岸景观。这种景观的表征物是长期风化后的石头和沙土。设计者提取了石头作为建筑材料,但是采用了与风化完全相反的加工手段:整齐如刀切的平面和立面处理,和四周环境形成强烈对比,这反而突显了自然之苍凉与建筑之温暖。
柳亦春:标准营造的娘欧码头,更像是一个大地艺术的作品。沿着等高线盘旋而上、由石块砌筑而成的分不清是建筑还是坡道抑或城墙的构筑物,就像一处历史遗迹,出现在那一片荒野的山脚,仿佛揭示着这里和文明世界的联系从未间断。作为一个人造物,它强化了自然的存在,也令我们更为深刻地理解到景观的本质。