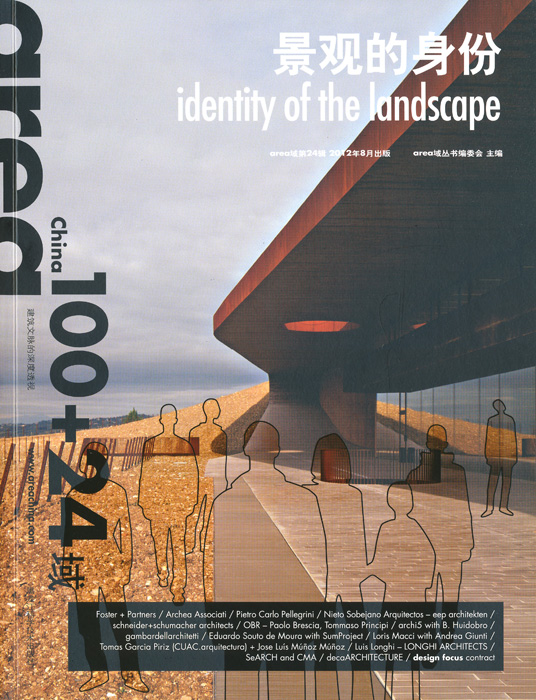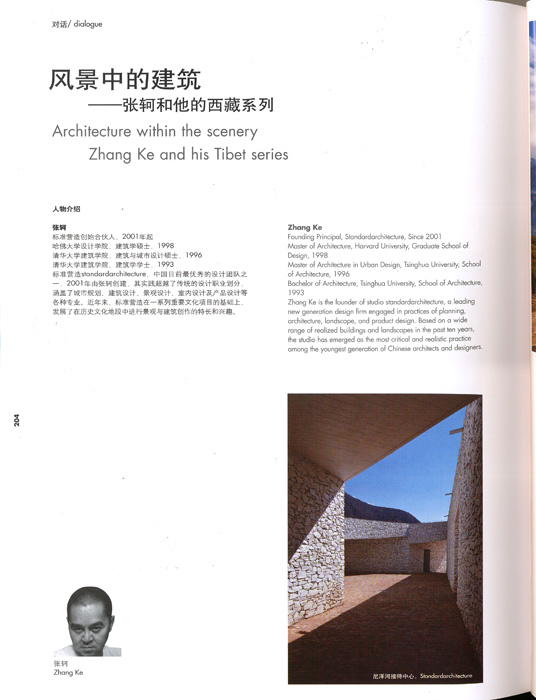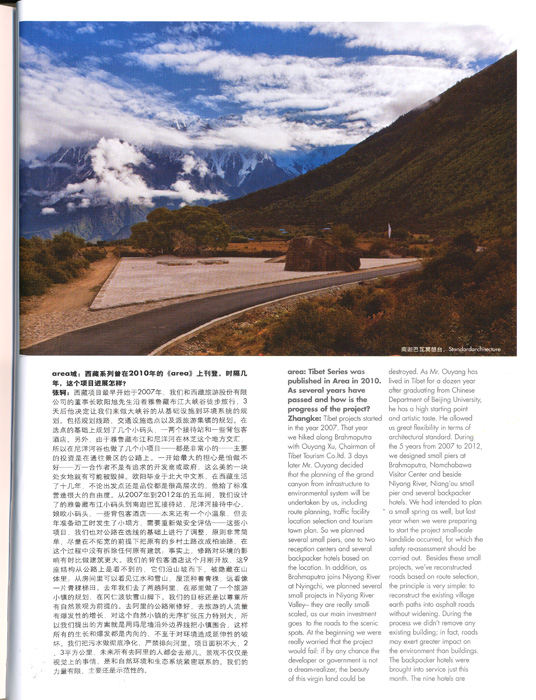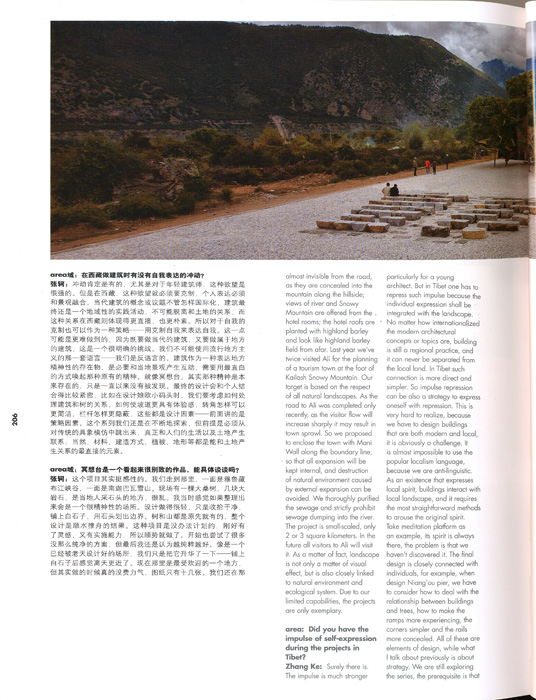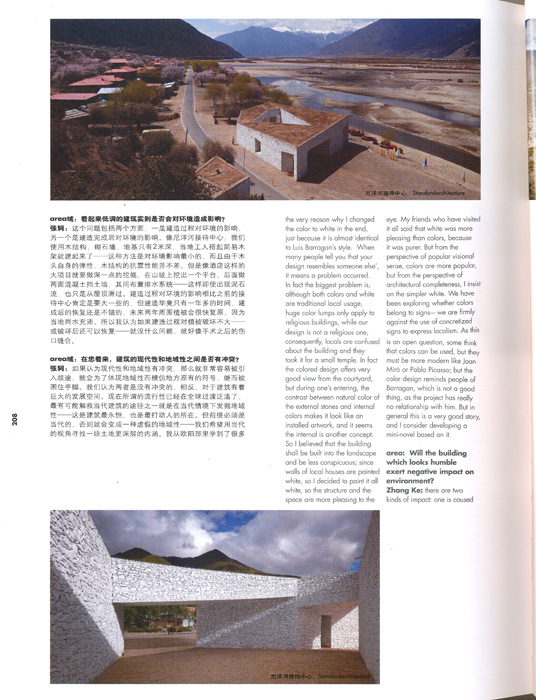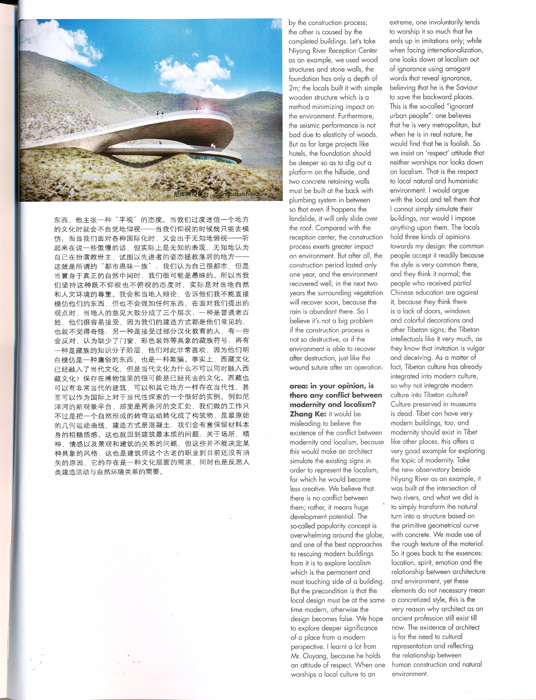 Architecture within the scenery
Zhang Ke and his Tibet series
area: Tibet Series was published in Area in 2010. As several years have passed and how is the progress of the project?
Zhang ke: Tibet projects started in the year 2007. That year we hiked along Brahmaputra with Ouyang Xu, Chairman of Tibet Tourism Co.ltd. 3 days later Mr. Ouyang decided that the planning of the grand canyon from infrastructure to environmental system will be undertaken by us, including route planning, traffic facility location selection and tourism town plan. So we planned several small piers, one to two reception centers and several backpacker hotels based on the location. In addition, as Brahmaputra joins Niyang River at Nyingchi, we planned several small projects in Niyang River Valley-they are really small-scaled, as our main investment goes to the roads to the scenic spots. At the beginning we were really worried that the project would fail: if by any chance the developer or government is not a dream-realizer, the beauty of this virgin land could be destroyed. As Mr. Ouyang has lived in Tibet for a dozen year after graduating from Chinese Department of Beijing University, he has a high starting point and artistic taste. He allowed us great flexibility in terms of architectural standard. During the 5 years from 2007 to 2012, we designed small piers at Brahmaputra, Namchabawa Visitor Center and beside Niyang River, Niang ou small pier and several backpacker hotels. We had intended to plan a small spring as well, but last year when we were preparing to start the project small-scale landslide occurred, for which the safety re-assessment should be carried out. Besides these small projects, we've reconstructed roads based on route selection, the principle is very simple: to reconstruct the existing village earth paths into asphalt roads without widening. During the process we didn't remove any existing building; in fact, roads may exert greater impact on the environment than buildings. The backpacker hotels were brought into service just this month. The nine hotels are almost invisible from the road, as they are concealed into the mountain along the hillside; views of river and Snowy Mountain are offered from the hotel rooms; the hotel roofs are planted with highland barley and look like highland barley field from afar. Last year we've twice visited Ali for the planning of a tourism town at the foot of Kailash Snowy Mountain. Our target is based on the respect of all natural landscapes. As the road to Ali was completed only recently, as the visitor flow will increase sharply it may result in town sprawl. So we proposed to enclose the town with Mani Wall along the boundary line, so that all expansion will be kept internal, and destruction of natural environment caused by external expansion can be avoided. We thoroughly purified the sewage and strictly prohibit sewage dumping into the river. the project is small-scaled, only 2 or 3 square kilometers. In the future all visitors to Ali will visit it. As a matter of fact, landscape is not only a matter of visual effect, but is also closely linked to natural environment and ecological system. Due to our limited capabilities, the projects are only exemplary.
area:Did you have the impulse of self-expression during the projects in Tibet?
Zhang Ke: Surely there is. The impulse is much stronger particularly for a young architect. But in Tibet one has to repress such impulse because the individual expression shall be integrated with the landscape. No matter how internationalized the modern architectural concepts or topics are, building is still a regional practice, and if can never be separated from the local land. In Tibet such connection is more direct and simpler. So impulse repression can be also a strategy to express oneself with repression. This is very hard to realize, because we have to design buildings that are both modern and local, it is obviously a challenge. It is almost impossible to use the popular localism language, because we are anti-linguistic. As an existence that expresses local spirit, buildings interact with local landscape, and it requires the most straightforward methods to arouse the original spirit. Take meditation platform as an example, its spirit is always there, the problem is that we haven't discovered it. The final design is closely connected with individuals, for example, when design Niang ou pier, we have to consider how to deal with the relationship between buildings and trees, how to make the ramps more experiencing, the corners simpler and the rails more concealed. All of these are elements of design, while what I talk about previously is about strategy. We are still exploring the series, the prerequisite is that we have to break traditional pattern of concretized imitation, and the design shall be connected with people's life and localism. Of course, materials, construction methods, vegetation and topography are all design elements that are directly linked to land. 
area: Namchabawa Contemplation seems to be a special one. Can you explain it in detail?
Zhang Ke: The project concept is actually emotional. When we walked to the place with Brahmaputra Canyon on the one side and Namcha Barwa on the other, we found a great mulberry tree and several big rocks; it is a quarry and is very disordered. At that moment I felt it can be a very spiritual place if well designed. The design is easy; we just cleaned if, paved it with white stones and define the boundary with stones. The trees and mountains are always there, so the whole design just makes use of what are already there. This kind of project in not to be planned, it is achieved just because we happened to get the inspiration, plus, we are capable of designing it. So we just made it. At first we tried several more complicated options, but finally we decided that the simpler and purer, the better. It seems as if we just updated what the nature has already designed-after paving white stones, we felt like we were closer to heaven. Now it is the most popular place.Yet actually we didn't devote much effort to it. We only provided about a dozen drawings. We've also designed an observatory there and it is already completed. There is a square tea room under it, where a local seller sells butter tea and cordyceps which is very profitable. In Tibet you will find that all landscapes are buildings, while all buildings are landscapes; both temples and local houses are built into the nature; this concept of integration of buildings and landscapes has become also popular in metropolis in recent years. In fact, in Tibet, it has been so for thousands of years. The Tibetan building and landscape integration offers great inspiration for modern architectural design.
area: There are two sets of pictures about the reception center beside Niyang River, one set is colored, while the other is white. What is the story behind?
Zhang Ke: It is a story interesting. At the beginning the pictures were designed to be colored. It was inspired by a temple called Lamaling Monastery. There was a room with complicated shape, each side of which was painted with a different color. We found in Tibet this is the design most similar to contemporary architecture coloring and has the style of Luis Barragan. But this is also the very reason why I changed the color to white in the end, just because it is almost identical to Luis Barragan's style. When many people tell you that your design resembles someone else', it means a problem occurred. In fact the biggest problem is, although both colors and white are traditional local usage, huge color lumps only apply to religious buildings, while our design is not a religious one, consequently, locals are confused about the building and they took it for a small temple. In fact the colored design offers very good view from the courtyard, but during one's entering, the contrast between natural color of the external stones and internal colors makes it look like an installed artwork, and it seems the internal is another concept. So I believed that the building shall be built into the landscape and be less conspicuous; since walls of local houses are painted white, so I decided to paint it all white, so the structure and the space are more pleasing to the eye. My friends who have visited it all said that white was more pleasing than colors, because it was purer. But from the perspective of popular visional sense, colors are more popular, but from the perspective of architectural completeness, I insist on the simpler white. We have been exploring whether colors belong to signs- we are firmly against the use of concretized signs to express localism. As this is an open question, some think that colors can be used, but they must be more modern like Joan Miró or Pablo Picasso; but the color design reminds people of Barragan, which is not a good thing, as the project has really no relationship with him. But in general this is a very good story, and I consider developing a mini-novel based on it.
area: Will the building which looks humble exert negative impact on environment?
Zhang Ke: there are two kinds of impact: one is caused by the construction process; the other is caused by the completed buildings. Let's take Niyang River Reception Center as an example, we used wood structures and stone walls, the foundation has only a depth of 2m; the locals built it with simple wooden structure which is a method minimizing impact on the environment. Furthermore, the seismic performance is not bad due to elasticity of woods. But as for large projects like hotels, the foundation should be deeper so as to dig out a platform on the hillside, and two concrete retaining walls must be built at the back with plumbing system in between so that even if happens the landslide, it will only slide over the roof. Compared with the reception center, the construction process exerts greater impact on environment. But after all, the construction period lasted only one year, and the environment recovered well, in the next two years the surrounding vegetation will recover soon, because the rain is abundant there. So I believe it's not a big problem if the construction process is not so destructive, or if the environment is able to recover after destruction, just like the wound suture after an operation.
area: in your opinion, is there any conflict between modernity and localism?
Zhang Ke: it would be misleading to believe the existence of the conflict between modernity and localism, because this would make an architect simulate the existing signs in order to represent the localism, for which he would become less creative. We believe that there is no conflict between them; rather, it means huge development potential. The so-called popularity concept is overwhelming around the globe, and one of the best approaches to rescuing modern buildings from it is to explore localism which is the permanent and most touching side of a building. But the precondition is that the local design must be at the same time modern, otherwise the design becomes false. We hope to explore deeper significance of a place from a modern perspective. I learnt a lot from Mr. Ouyang, because he holds an attitude of respect. When one worships a local culture to an extreme, one involuntarily tends to worship if so much that he ends up in imitations only; while when facing internationalization, one looks down at localism out of ignorance using arrogant words that reveal ignorance, believing that he is the Saviour to save the backward places. This is the so-called "ignorant urban people": one believes that he is very metropolitan, but when he is in real nature, he would find that he is foolish. So we insist on 'respect' attitude that neither worships nor looks down on localism. That is the respect to local natural and humanistic environment. I would argue with the local and tell them that I cannot simply simulate their buildings, nor would I impose anything upon them. The locals hold three kinds of opinions towards my design: the common people accept it readily because the style is very common there, and they think it normal; the people who received partial Chinese education are against it, because they think there is a lack of doors, windows and colorful decorations and other Tibetan signs; the Tibetan intellectuals like it very much, as they know that imitation is vulgar and deceiving. As a matter of fact, Tibetan culture has already integrated into modern culture, so why not integrate modern culture into Tibetan culture? Culture preserved in museums is dead. Tibet can have very modern buildings, too, and modernity should exist in Tibet like other places, this offers a very good example for exploring the topic of modernity. Take the new observatory beside Niyang River as an example, it was built at the intersection of two rivers, and what we did is to simply transform the natural turn into a structure based on the primitive geometrical curve with concrete. We made use of the rough texture of the material. So it goes back to the essences: location, spirit, emotion and the relationship between architecture and environment, yet these elements do not necessary mean a concretized style, this is the very reason why architect as an ancient profession still exist till now. The existence of architect is for the need to cultural representation and reflecting the relationship between human construction and natural environment.
风景中的建筑       ——张轲和他的西藏系列
area域:西藏系列曾在2010年的《area》上刊登,时隔几年,这个项目进展怎样?
张轲:西藏项目最早开始于2007年,我们和西藏旅游股份有限公司的董事长欧阳旭先生沿着雅鲁藏布江大峡谷徒步旅行,3天后他决定让我们来做大峡谷的从基础设施到环境系统的规划。包括规划线路、交通设施选点以及派旅游集镇的规划。在选点的基础上规划了几个小码头,—两个接待站和一些背包客酒店。另外,由于雅鲁藏布江和尼洋河在林芝这个地方交汇,所以在尼洋河谷也做了几个小项目——都是非常小的——主要的投资是在通往景区的公路上。—开始最大的担心是怕做不好——万一合作者不是有追求的开发商或政府,这么美的一块处女地就有可能被毁掉。欧阳毕业于北大中文系,在西藏生活了十几年,不论出发点还是品位都是很高层次的,他给了标准营造很大的自由度。从2007年到2012年的五年间,我们设计了的雅鲁藏布江小码头到南迦巴瓦接待站、尼洋河接待中心、娘欧小码头、—些背包客酒店——本来还有一个小温泉,但去年准备动工时发生了小塌方,需要重新做安全评估——这些小项目,我们也对公路在选线的基础上进行了调整,原则非常简单,尽量在不拓宽的前提下把原有的乡村土路改成柏油路,在这个过程中没有拆除任何原有建筑;事实上,修路对环境的影响有时比做建筑更大。我们的背包客酒店这个月刚开放,这9座结构从公路上是看不到的,它们沿山坡而下,被隐藏在山体里;从房间里可以看见江水和雪山,屋顶种着青裸,远看像一片青稞梯田。去年我们去了两趟阿里,在那里做了一个旅游小镇的规划,在冈仁波钦雪山脚下。我们的目标还是以尊重所有自然景观为前提的。去阿里的公路刚修好,去旅游的人流量有爆发性的增长,对这个自然小镇的无序扩张压力特别大,所以我们提出的方案就是用玛尼墙沿外边界线把小镇围合,这样所有的生长和爆发都是内向的,不至于对环境造成延伸性的破坏。我们把污水做彻底净化,严禁排向河里。项目面积不大,2、3平方公里,未来所有去阿里的人都会去那儿。景观不仅仅是视觉上的事情,是和自然环境和生态系统紧密联系的。我们的力量有限,主要还是示范性的。
area域:在西藏做建筑时有没有自我表达的冲动?
张轲:冲动肯定是有的,尤其是对于年轻建筑师,这种欲望是很强的。但是在西藏,这种欲望就必须要克制,个人表达必须和景观融合。当代建筑的概念或议题不管怎样国际化,建筑最终还是一个地域性的实践活动,不可能脱离和土地的关系,而这种关系在西藏则体现得更直接、也更朴素。所以对于自我的克制也可以作为一种策略——用克制自我来表达自我。这一点可能是更难做到的,因为既要做当代的建筑,又要做属于地方的建筑,这是一个很明确的挑战。我们不可能使用流行地方主义的那一套语言——我们是反语言的。建筑作为一种表达地方精神性的存在物,是必要和当地景观产生互动,需要用最直白的方式唤起那种原有的精神。就像冥想台,其实那种精神是本来存在的,只是一直以来没有被发现。最终的设计会和个人结合得比较紧密,比如在设计娘欧小码头时,我们要考虑如何处理建筑和树的关系,如何使坡道更具有体验感,转角怎样可以更简洁,栏杆怎样更隐蔽,这些都是设计因素——前面讲的是策略因素。这个系列我们还是在不断地探索,但前提是必须从对传统的具象模仿中跳出来,真正和人们的生活以及土地产生联系;当然,材料、建造方式、植被、地形等都是能和土地产生关系的最直接的元素。
area域:冥想台是一个看起来很别致的作品,能具体谈谈吗?
张轲:这个项目其实挺感性的。我们走到那里,—面是雅鲁藏布江峡谷,一面是南迦巴瓦雪山。现场有一棵大桑树,几块大岩石,是当地人采石头的地方,很乱。我当时感觉如果整理出来会是—个很精神性的场所。设计做得很轻,只是收拾干净,铺上白石子,用石头划出边界。树和山都是原先就有的,整个设计是顺水推舟的结果。这种项目是没办法计划的,刚好有了灵感,又有实施能力,所以顺势就做了。开始也尝试了很多没那么纯净的方案,但最后我还是认为越纯粹越好。像是一个已经被老天设计好的场所,我们只是把它升华了一下——铺上白石子后感觉离天更近了。现在那里是最受欢迎的一个地方,但其实做的时候真的没费力气,图纸只有十几张。我们还在那里做了一个观景平台,已经完工了,平台下面有一间方形的茶室,一个当地人在里面卖酥油茶和虫草,还挺赚钱的。在西藏你会发现,所有的景观都是建筑,所有的建筑也都是景观;—路上看到的无论寺院还是民居都是和自然融为一体的,这种建筑和景观水乳交融的理念在都市里也渐渐流行起来了,其实在西藏,几千年来—直就是这样——当代建筑从对西藏建筑和景观的阅读中可以得到很大启发。
area域:关于尼洋河接待中心有两组照片,一组是彩色的,一组是白色的,这其中有什么故事?
张轲:这件事很有意思。一开始的设计是有颜色的。灵感来自于项目旁边的一座寺院,叫做喇嘛岭寺。里面有一间房子形状很复杂,每个面都刷了不同颜色,这是我们在西藏发现的与当代建筑用色手法最接近的地方,很有路易斯·巴拉甘的感觉。但这也是我后来把建筑改成白色的原因,因为它实在太像巴拉甘的风格了——当有几个人都对你说它像某个人的作品时,这就有问题了。事实上最主要的问题是,虽然彩色和白色都是当地的传统,但那种大色块只会出现在宗教建筑上,而我们的设计并不是一个宗教建筑,所以导致当地人看到后搞不明白建筑的身份——还以为是座小寺庙。其实站在庭院里的效果非常好,但是当从外面进入时,外部石材的自然属性和内部色彩之间的反差使它看起来有点像装置艺术,像是介入了另一个概念。我认为还是应该更融入景观,使建筑不那么显眼;而当地民居的墙面上刷的就是白粉,所以我决定把它变成纯白色,这样就使结构和空间更加耐看。我身边去过现场的朋友都说白色比彩色更打动人,因为更纯粹了。从流行视觉的角度,一定是彩色更容易流行,但从建筑的完整性来说,我还是更主张朴素的白色。我们一直在探讨色彩是不是属于符号的问题一一我们坚决反对用具象的符号表达地域性。这是一个开放的命题,—种观点认为可以使用色彩,但应该用一种更当代的手段,像是米罗、毕加索等等,但大家同时想到了巴拉甘,这就是个不太好的事了,因为真的和他没关系。但总的来说这是个很好的故事,将来可以考虑写—部小小说。  
area域:看起来低调的建筑实则是否会对环境造成影响?
张轲:这个问题包括两个方面,一是建造过程对环境的影响,另一个是建造完成后对环境的影响。像尼洋河接待中心,我们使用木结构,砌石墙,地基只有2米深,当地工人搭起简易木架就建起来了——这种方法是对环境影响最小的,而且由于木头自身的弹性,木结构的抗震性能并不差。但是像酒店这样的大项目就要做深一点的挖掘,在山坡上挖出一个平台,后面做两面混凝土挡土墙,其间布置排水系统——这样即使出现泥石流,也只是从屋顶滑过。建造过程对环境的影响相比之前的接待中心肯定是要大一些的,但建造毕竟只有一年多的时间,建成后的恢复还是不错的,未来两年周围植被会很快复原,因为当地雨水充沛。所以我认为如果建造过程对植被破坏不大——或破坏后还可以恢复——就没什么问题,就好像手术之后的伤口缝合。
area域:在您看来,建筑的现代性和地域性之间是否有冲突?
张轲:如果认为现代性和地域性有冲突,那么就非常容易被引入歧途,就会为了体现地域性而模仿地方原有的符号,继而被困住手脚。我们认为两者是没有冲突的,相反,对于建筑有着巨大的发展空间。现在所谓的流行性已经在全球过渡泛滥了,最有可能解救当代建筑的途径之一就是在当代情境下发掘地域性——这是建筑最永恒,也是最打动人的所在。但前提必须是当代的,否则就会变成一种虚假的地域性——我们希望用当代的视角寻找一块土地更深层的内涵。我从欧阳那里学到了很多东西,他主张一种"平视"的态度。当我们过度迷信一个地方的文化时就会不自觉地仰视——当我们仰视的时候就只能去模仿;而当我们面对各种国际化时,又会出于无知地俯视——听起来在说一些傲慢的话,但实际上是无知的表现,无知地认为自己在扮演救世主,试图以先进者的姿态拯救落后的地方——这就是所谓的"都市愚昧一族":我们认为自己很都市,但是当置身于真正的自然中间时,我们很可能是愚昧的。所以当我们坚持这种既不仰视也不俯视的态度时,实际是对当地自然和人文环境的尊重。我会和当地人辩论,告诉他们我不能直接模仿他们的东西,但也不会强加任何东西。在面对我们提出的观点时,当地人的意见大致分成了三个层次:一种是普通老百姓,他们很容易接受,因为我们的建造方式都是他们常见的,也就不觉得奇怪;另—种是接受过部分汉化教育的人,有一些会反对,认为缺少了门窗,彩色装饰等具象的藏族符号;再有—种是藏族的知识分子阶层,他们对此非常喜欢,因为他们明白模仿是一种庸俗的东西,也是—种欺骗。事实上,西藏文化已经融入了当代文化,但是当代文化为什么不可以同时融入西藏文化?保存在博物馆里的很可能是已经死去的文化。西藏也可以有非常当代的建筑,可以和其它地方一样存在当代性,甚至可以作为国际上对于当代性探索的一个很好的实例。例如尼洋河的新观景平台,那里是两条河的交汇处,我们做的工作只不过是把一个自然形成的转弯运动转化成了构筑物,是最原始的几何运动曲线,建造方式是混凝土,我们会有意保留材料本身的粗糙质感。这也就回到建筑最本质的问题:关于场所、精神、情感以及景观和建筑的关系的问题,但这些并不能决定某种具象的风格,这也是建筑师这个古老的职业到目前还没有消失的原因,它的存在是一种文化层面的需求,同时也是反思人类建造活动与自然环境关系的需要。