Standardarchitecture, Beijing
01 December 2010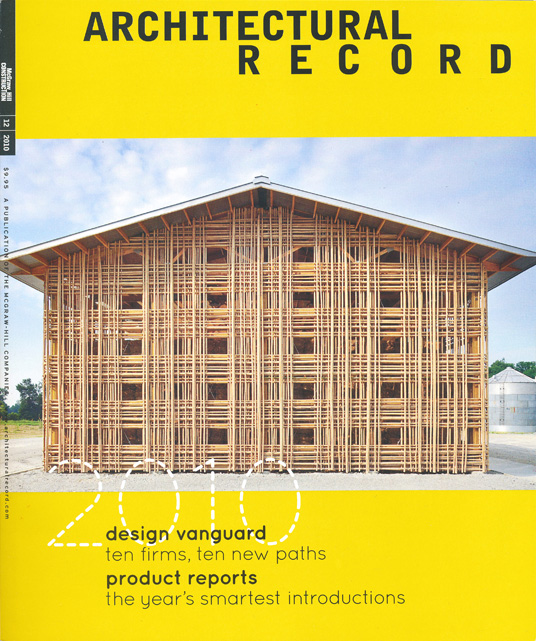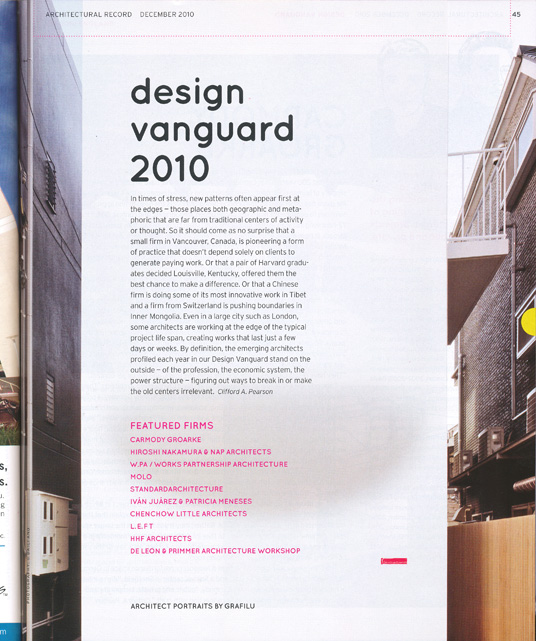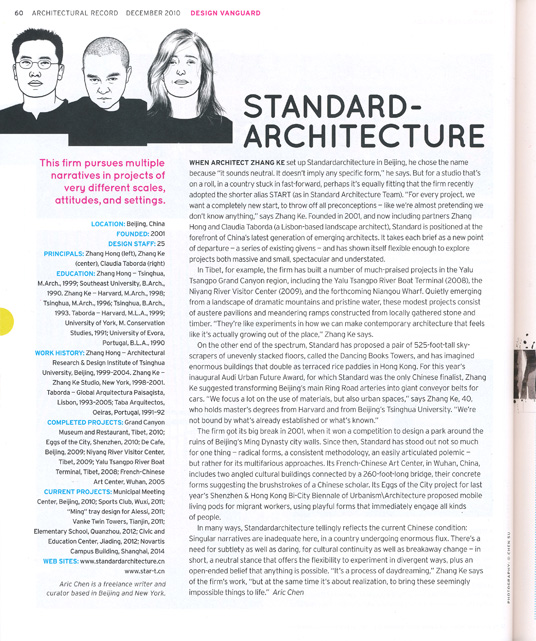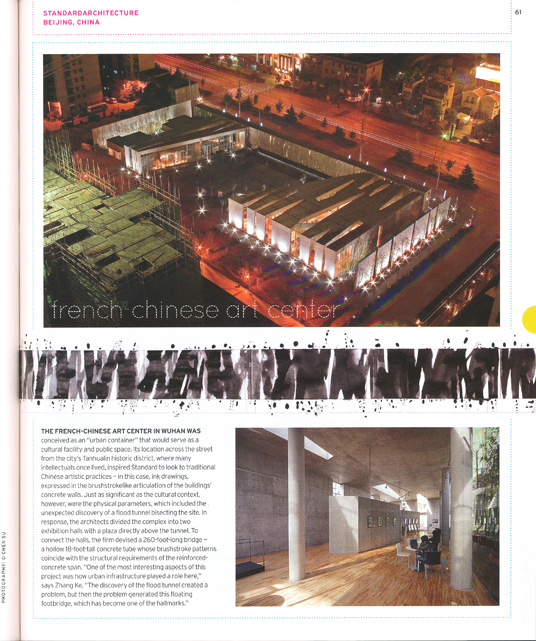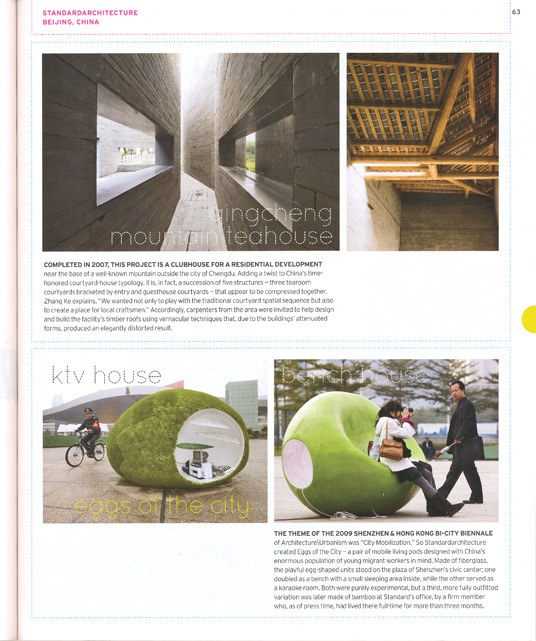 When architect Zhang Ke set up Standardarchitecture in Beijing, he chose the name because "it sounds neutral. It doesn't imply any specific form," he says. But for a studio that's on a roll, in a country stuck in fast-forward, perhaps it's equally fitting that the firm recently adopted the shorter alias START (as in Standard Architecture Team). "For every project, we want a completely new start, to throw off all preconceptions - like we're almost pretending we don't know anything," says Zhang Ke. Founded in 2001, and now including partners Zhang Hong and Claudia Taborda (a Lisbon-based landscape architect), Standard is positioned at the forefront of China's latest generation of emerging architects. It takes each brief as a new point of departure - a series of existing givens - and has shown itself flexible enough to explore projects both massive and small, spectacular and understated.
In Tibet, for example, the firm has built a number of much-praised projects in the Yalu Tsangpo Grand Canyon region, including the Yalu Tsangpo River Boat Terminal (2008), the Niyang River Visitor Center (2009), and the forthcoming Niangou Wharf. Quietly emerging from a landscape of dramatic mountains and pristine water, these modest projects consist of austere pavilions and meandering ramps constructed from locally gathered stone and timber. "They're like experiments in how we can make contemporary architecture that feels like it's actually growing out of the place," Zhang Ke says.
On the other end of the spectrum, Standard has proposed a pair of 525-foot-tall sky - scrapers of unevenly stacked floors, called the Dancing Books Towers, and has imagined enormous buildings that double as terraced rice paddies in Hong Kong. For this year's inaugural Audi Urban Future Award, for which Standard was the only Chinese finalist, Zhang Ke suggested transforming Beijing's main Ring Road arteries into giant conveyor belts for cars. "We focus a lot on the use of materials, but also urban spaces," says Zhang Ke, 40, who holds master's degrees from Harvard and from Beijing's Tsinghua University. "We're not bound by what's already established or what's known."
The firm got its big break in 2001, when it won a competition to design a park around the ruins of Beijing's Ming Dynasty city walls. Since then, Standard has stood out not so much for one thing - radical forms, a consistent methodology, an easily articulated polemic- but rather for its multifarious approaches. Its French-Chinese Art Center, in Wuhan, China, includes two angled cultural buildings connected by a 260-foot-long bridge, their concrete forms suggesting the brushstrokes of a Chinese scholar. Its Eggs of the City project for last year's Shenzhen & Hong Kong Bi-City Biennale of Urbanism\Architecture proposed mobile living pods for migrant workers, using playful forms that immediately engage all kinds of people.
In many ways, Standardarchitecture tellingly reflects the current Chinese condition: Singular narratives are inadequate here, in a country undergoing enormous flux. There's a need for subtlety as well as daring, for cultural continuity as well as breakaway change - in short, a neutral stance that offers the flexibility to experiment in divergent ways, plus an open-ended belief that anything is possible. "It's a process of daydreaming," Zhang Ke says of the firm's work, "but at the same time it's about realization, to bring these seemingly impossible things to life." 
French-chinese art center
The French-chinese art center in wuhan was conceived as an "urban container" that would serve as a cultural facility and public space. Its location across the street from the city's Tanhualin historic district, where many intellectuals-once lived, inspired Standard to look to traditional Chinese artistic  practices - in this case, ink drawings, expressed in the brushstrokelike articulation of the buildings' concrete walls. Just as significant as the cultural context, however, were the physical parameters, which included the, unexpected discovery of a flood tunnel bisecting the site. In response, the architects divided the complex into two exhibition halls with a plaza directly above the tunnel. To connect the halls, the firm devised a 260-foot-long bridge - a hollow 18-foot-tall concrete tube whose brushstroke patterns coincide with the structural requirements of the reinforced-concrete span. "One of the most interesting aspects of this project was how urban infrastructure played a role here," says Zhang Ke. "The discovery of the flood tunnel created a problem, but then the problem generated this floating footbridge, which has become one of the hallmarks."
Yalu tsangpo river boat terminal
Set in a spectacular region of Tibet, the Yalu Tsangpo River Boat Terminal (2008) is the farthest one can go via boat to the foot of Namcha Barwa mountain, the eastern anchor of the Himalayas. A series of ramps wind from the river's edge around poplar trees, then over and through a structure housing a waiting lounge, ticket office, toilets, and lodgings. The ramp terminates on the roof, where it projects over the water. Standard sought to create a work of contemporary architecture that would blend into the natural landscape, so the structure uses mostly indigenous materials. Walls and roofs were built of rocks gathered nearby by Tibetan masons, who determined the stones' patterns, while cabinetry and floors were made of local timber.  
Niyang river visitor center
Situated at the start of a scenic drive in Tibet, between a road and a river, the Niyang River Visitor Center (2009) houses a ticket office, a changing room for rafting, and toilets. Like other Standardarchitecture projects in Tibet, it is built of local stone and timber beams, and has thick walls with deep recesses. 
The building's angled geometry was a response to the site boundaries, while its four entry points - one on each side -accommodate circulation needs, merging at an open central courtyard carved out from the main volume. In contrast to the exterior walls, this inner void is painted in mineral-derived pigments of bright blue, orange, and red to create a visual effect that shifts as one glimpses it through the building's various openings and at various times of day. Zhang Ke wanted to reference the importance of color in Tibetan culture -though in this case, he stresses, the hues hold no symbolic meaning.
 "We want to create an equal standpoint where we're neither ignoring Tibetan culture nor imitating it," says Zhang Ke. "The building had to have an autonomous beauty within itself."
Qingcheng mountain teahouse
Completed in 2007, this project is a clubhouse for a residential development near the base of a well-known mountain outside the city of Chengdu. Adding a twist to China's time - honored courtyard-house typology, it is, in fact, a succession of five structures -three tearoom courtyards bracketed by entry and guesthouse courtyards -that appear to be compressed together. Zhang Ke explains, "We wanted not only to play with the traditional courtyard spatial sequence but also to create a place for local craftsmen." Accordingly, carpenters from the area were invited to help design and build the facility's timber roofs using vernacular techniques that, due to the buildings' attenuated forms, produced an elegantly distorted result.
Eggs of the city
The theme of the 2009 shenzhen & hong kong bi-city biennale of Architecture\Urbanism was "City Mobilization." So Standardarchitecture created Eggs of the City- a pair of mobile living pods designed with China's enormous population of young migrant workers in mind. Made of fiberglass, the playful egg-shaped units stood on the plaza of Shenzhen's civic center; one doubled as a bench with a small sleeping area inside, while the other served as a karaoke room. Both were purely experimental, but a third, more fully outfitted variation was later made of bamboo at Standard's office, by a firm member who, as of press time, had lived there full-time for more than three months.